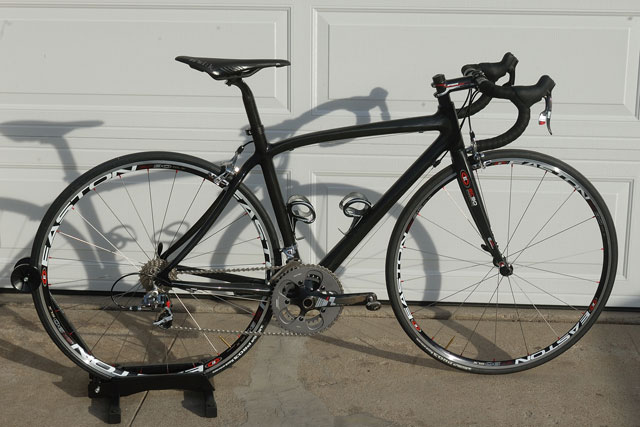 Pedal Force RS2 with Easton EA90 SLX wheels 14.11 lb as pictured.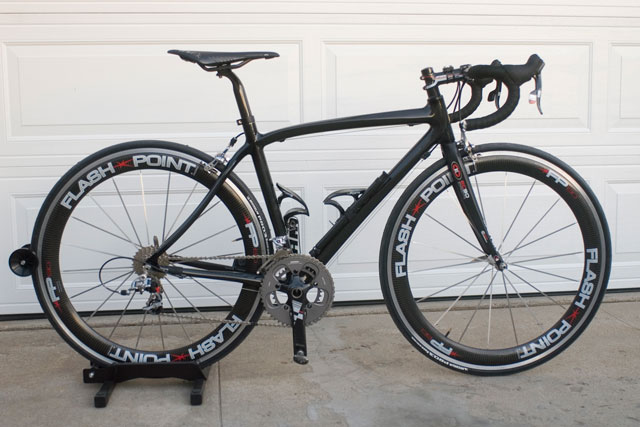 Pedal Force RS2 with Zipp Flash Point 60 wheels 16.7 lb even as pictured.

Pedal Force a company that sells hi quality carbon frames from their website at a great price. http://pedalforce.com
Built up a Pedal Force RS2 with Sram Red, Sram GXP Ceramic, Easton EC90 SL fork, Easton EC90 SLX Ergo bars, FSA CE headset, Fizik Arione CX Braided Carbon Rail Saddle on Easton EA90 SLX wheels weight came out to 14.11 lb including pedals and 2 cages.
The frames I got is the Black 3K carbon weave and it is beautiful the joints are flawless and smooth. My riding friends couldnít be leave how good it looked and they paid several thousand dollars more for their bikes that were still 2 lbs heaver.
The bike rides as good as it looks the BB is very stiff frame shows no sign of flex on climbs and sprints and tracks down hill on fast descents like itís on rails @ 50 m.p.h.
The frame adsorbs the road buzz like Iím on a newly repaved road giving a smooth ride on the rough roads that use to rattle me on my aluminum frame.
The customer support was first class as I did communicate with them the entire time from order date to time of completion of my build and they always responded to all my concerns. I did return the first frame because of a small flaw that was unacceptable to me and that also was a trouble free experience which was handled by them right away and supplied me with a new frame and return label for the old one, so time frame was only a couple of days extra.
Over all very happy with my experience with Peal Force and would have no problem recommending them if you are looking to build a frame thatís would compare to some hi end frame out their itís a great choice, I would have spent much more money to get a nice sub 15 lb bike.
Thanks for the great frame that Iím sure to get several years of use from.
Take a look you may notice some interesting similarities Wilier Izoard Outside Online buyers guide 2009 Gear of The Year winner Willer USA

Weekend Ride Review
7-22-2012 Update Review
So far this year 766 miles one century on my last ride I noticed an spot on my top tube that seems to be having a problem so I contacted Pedal Force with some photos and details.
NOTE: While each case is handled individually and my case is no different with out going into detail as I fill it's not relevant they are handling it well beyond my expiations and I will say Pedal Force as a company is in my opinion is at the top of the list when it comes to customer support and dealing with it better than some of the big brands that we all know.

My friend had an issue with one (GT) right now and has been dealing with it for 3 months and while progress is moving along with his frame Pedal Force made them look silly in respects to Customer Service.
If anyone has any hesitations of dealing with Pedal Force I for one can say that they are a company that backs what they sell and have no reservations and buy with confidence not to mention the frames ride great.
12-31-2011 Update Review
2nd full year on my RS2 and all I can say is it's been a great frame have done a few more centuries on it and a total of 1840 miles in 2011 with 55 rides. Lots of weekend climbing and the Pedal Force RS2 has been fantastic on all rides still trouble free and has passed my expectations and has performed great.
12-31-2010 1 full year Update Review
Well one full year on my RS2 and all I can say is it's been a great frame have done a few centuries on it and a total of 1679 miles in 2010 with 45 rides and not 1 issue with the frame or any parts it's been great. Long rides are very comfortable and had a Pro Fitting done with Nate Loyal over at Helens Cycles in Santa Monica.
1-31-2010 7th ride review my last review for a while.
Put the Easton EA90 SLX wheels back on for this ride and all I can say is these wheels are great for climbing I felt really good this weekend and was able to climb better than normal. At the end of this 43 mile ride I was still quite fresh.
The Pedal Force frame is worth considering if you want to build carbon fiber frame that's stiff and light, handles great in all conditions on fast descents it's very stable and balanced.
I'm really happy with the build and hope it will give me many miles of use. The only thing I may do is have a Pro Fit just to see if I can fine tune the fit although it fills great now, I'm really interested in getting it done so my cleat positioning can be checked.
1-24-2010 6th ride review.
Put the Zipp Flashpoint 60's on for this ride which I thought was going to be a more flat ride but ended up doing 3000 ft. The wheels roll great once you get up to speed. What I did notice is that since they are heaver you need to carry your momentum up the hills and rollers once you loose it you'll work a lot harder to the top than with the Easton EA90 SLX wheels. So over all climbing will suffer as expected from a aero carbon wheel.
1-16-2010 5th ride review.
Slight saddle adjustment raised nose 2 deg. and cleat on right shoe did some slight adjustments for this ride.
I fill like everything is dialed in perfect now this ride took me on a 42.3 mile ride with 3656 ft of climbing several 11% grades with a couple hitting 20% and the bike performed great!.
I can't say enough on how stiff the frame is while still very comfortable on these 40+ mile rides at the end of this ride I was still filling very good. Next ride will be more of a fast paced flat and rollers with maybe one or two short climbs of 7% grades so I plan on testing the Zipp Flash Point 60 wheels again and it should be a little faster now that I have the fit dialed in better
1-10-2010 4th ride review.
Made some new adjustments to dial in fit, change the FSA OS-99 CSI stem with same model but shorter went from 100 mm to 90 mm and was much better for me. Raised seat tube 5 mm and forward 5 mm everything is just about perfect now.
Today's ride was a 49 miles with Elevation Gain of 4,065 ft with the EA90 SLX wheels and the more I ride the Pedal Force the more I like it. The ride feels very smooth and climbs great my climbing speed has increased by about 2-3 m.p.h. which was a great help I'm not a good climber but trying to work hard on it. The decent was a fast 49.6 m.p.h but still held back wanted to make sure it was stable and all I can say is @ 49.6 m.p.h. it was rock solid with no trace of any flex in any part of the bike. On the flats and rollers speed is easy to maintain the aero dynamics and weight @ 14.11 lb shows on the small hills over my old 19 lb bike.
1-3-2010 3rd review.
Still making some adjustments to saddle and changed the bars with same Easton EC90 SLX but 2 cm wider (42 cm.) it felt really good today so its getting dialed in nicely.
Took it out with the Zipp Flash Point 60 wheels today they really make the ride even smoother and on a 41.75 mile ride. 2271 ft of climbing and 10.4% grade's climbed great even with the 60's should of keep the Easton's on for this ride but wanted to see how the 60's rode. Well they added about 2 m.p.h. on the flats with same effort and down some of the steep roads just wanted to keep picking up speed coasting I hit 39.7 m.p.h. were I normally might get to 35 m.p.h.
12-28-2009 2nd ride review.
Health still not up to 100% but took the new Pedal Force on a 43 mile ride for it's 2nd ride and did some climbing on this ride with grades up to13%.
Used the Easton EA90 SLX wheels on this ride the frame was very stiff no flex in the bottom bracket at all.
Speed was also faster on climbs I'd say by at least 1 - 1.5 m.p.h. than before with same effort. The Easton EA90 SLX wheels were also stiff and I didn't notice any flex in them.
Over all the frame is fantastic light, stiff and rides very smooth absorbing all the bumps in the road.
Next ride I plan on using the Zipp Flash Point 60 wheels and still hit the hills will see how they hold up on the climbs and flats.

12-20-2009: First ride review fit was almost right on!
Just getting over a cold so it was an easy ride of 30 miles.

The frame is stiff and light handled great and tracked well while absorbing the road as if they had just been repaved.
The Easton EC90 SL Fork was also nice and stiff but absorbing the road well.
Climbed a few short hills both in and out of saddle, no flex from frame bb or from the Easton EA90 SLX wheels. The Easton EC90 SLX Ergo bars were also nice and stiff with no flex.
Sram Groups was different since I was coming off Shimano Utegra but with in 20 min. it felt great everything was dialed in perfect shifts were clean and crisp from both front and rear derailleur's. I now know why many have switched! if I had to choose Sram would be my pick.